InBase Reference: Perler, F. B. (2002). InBase, the Intein Database. Nucleic Acids Res. 30, 383-384.
---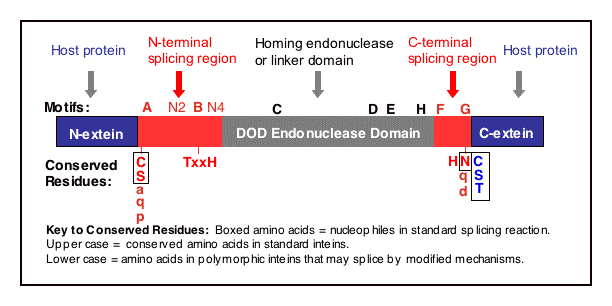 Splicing Motifs
The entire intein sequence is present in the individual intein files.
N- and C- terminal intein motifs (Blocks A, N2, B, N4, F, and G in the figure above) are involved in protein splicing and not endonuclease activity.
The position in the intein of the last amino acid in each block is listed to the right of the block.
An individual or amino acid group designation (see The Consensus Key below) in the consensus line indicates that the amino acid (upper case letter) or group (lower case letter) is present in a majority of the first 38 inteins sequenced, excluding the highly similar allelic inteins Perler 1997. Dots in the consensus motifs indicate the position of non-conserved amino acids. An asterisk (*) indicates a space added to better align the C-terminal end of Block F and a slash (/) indicates one or more residues were deleted from the block at the position of the slash to better align the C-terminal end of Block F.
Residues in red represent deviations from the conserved residues normally found in those positions in the block.
---
Intein                     Block A           Block B            Block F                 Block G       
Consensus                  Ch..Dp.hhh..G     G..h.hT..H.hhh     rVYDLpV**a..HNFh        NGhhhHNp      
Eucarya
Intein                     Block A           Block B            Block F                 Block G       
APMV Pol                   SVTGDTPIITRHQ 13  TGCIDVTEDHSLLD 99  YVYDLET**ESGSFHA 342    GEMIVKNT 352  
Abr PRP8                   CLAKGTRLLRYDG 13  IEDLVVTPNHILVL 69  TTEWAGFRVDKDQLYL 156    DYLVLHNS 166  
Aca-G186AR PRP8            CLAKGTQLLRYDG 13  KEDLVVTPNHILVL 69  MTEWAGFRVDKDQLYL 525    DFLVLHNS 535  
Aca-H143 PRP8              CLAKGTQLLRYDG 13  KEDLVVTPNHILVL 69  MTEWAGFRVDKDQLYL 501    DFLVLHNS 511  
Aca-JER2004 PRP8           CLAKGTQLLRYDG 13  KEDLVVTPNHILVL 69  MTEWAGFRVDKDQLYL 526    DFLVLHNS 536  
Aca-NAm1 PRP8              CLAKGTQLLRYDG 13  KEDLVVTPNHILVL 69  MTEWAGFRVDKDQLYL 485    DFLVLHNS 495  
Ade-ER3 PRP8               CLAKGTQLLRYDG 13  KEDLVVTPNHILVL 69  MTEWAGFRVDKDQLYL 517    DFLVLHNS 527  
Ade-SLH14081 PRP8          CLAKGTQLLRYDG 13  KEDLVVTPNHILVL 69  MTEWAGFRVDKDQLYL 517    DFLVLHNS 527  
Afu-Af293 PRP8             CLAKGTRLLRYDG 13  KEDLVVTPNHILVL 69  ATEWAGFRVDKDQLYL 810    DYLVLHNS 820  
Afu-FRR0163 PRP8           CLAKGTRLLRYDG 13  KEDLVVTPNHILVL 69  ATEWAGFRVDKDQLYL 810    DYLVLHNS 820  
Afu-NRRL5109 PRP8          CLAKGTRLLRYDG 13  KEDLVVTPNHILVL 69  ATEWAGFRVDKDQLYL 810    DYLVLHNS 820  
Agi-NRRL6136 PRP8          CLAKGTRLLRCDG 13  QEDLVVTPNHILVL 69  STEWAGFRVDKDQLYL 158    DYLVLHNS 167  
Ani-FGSCA4 PRP8            CLANGTQLLRYDG 13  KEDLVVTANHILVL 69  ATEWAGFRVDKDQLYL 596    DYVVLHNS 605  
Avi PRP8                   CLAKGTRLLRYDG 13  IEDLVVTPNHILVL 69  TTEWAGFRVDKDQLYL 160    DYLVLHNS 170  
Bci PRP8                   CLAWDTKLLRYDG 13  KEDLVVTGNHILVL 69  ATNWAGFRVDKDQLYL 829    DYLVLHNS 839  
Bde-JEL197 RPB2            CLSGDTEVVLGNG 13  GRVIKADPEHPLFA 75  RLYDFNTV*SQNHSFF 480    NSIVSHNC 489  
Bde-JEL423 PRP8-1          CFAPGTLVRMANG 13  ASGFTCNSRHDLII 85  FGFELEPLQSSAPHFL 456    SFVVVHNC 466  
Bde-JEL423 PRP8-2          CFAGHTSLLLADG 13  GDELVVTGNHILCL 68  QPYYGFKV*DGNQRFL 456    DFMVLHNS 466  
Bde-JEL423 RPC2            CLSGDTEVVLGNG 13  GRVIKADPEHPLFA 75  RLYDFNTV*SQNHSFF 480    NSIVSHNC 489  
Bde-JEL423 eIF-5B          CFGRDTPLLMADG 13  HDAFVCNKEHILVM 73  GEYFGFTVMGPNSRFL 410    DFTVTHNT 420  
Bfu-B05 PRP8               CLAWDTKLLRYDG 13  KEDLVVTGNHILVL 69  ATNWAGFRVDKDQLYL 802    DYLVLHNS 812  
CIV RIR1                   CVAPETMILTEDG 13  GCTLSCTPEHKFII 68  RVDDTYC**FTEPINH 329    NGILTGQC 340  
CV-NY2A ORF212392          CLHPETDVITFSG 13  GEPWKCNETHVLSL 68  VGDYVGPVLDKDHRYL 382    DFTVTHNT 392  
CV-NY2A RIR1               CVAGDTKILTSSG 13  GTELRCTPYHKFYI 68  DTYCFN**EPKRHMGV 328    GVITGGQC 337  
CZIV RIR1                  CVVGETLVLTQNG 13  GTSIICTPYHNFLS 68  DTYCFS**EPLNNAGV 131    NGILTGQC 140  
Cba-WM02.98 PRP8           CLQNGTRLLRADG 13  LEDLVCTHNHILSL 68  PTKWSGFVVDKDSLYL 161    DYLVLHNS 171  
Cba-WM728 PRP8             CLQNGTRLLRADG 13  LEDLVCTHNHILSL 68  PTKWSGFVVDKDSLYL 161    DYLVLHNS 171  
Ceu ClpP                   CLTSDHTVLTTRG 13  GVDLFVTPNHRMYV 73  PVYCLTG***PNNVFY 445    KAVWTGNS 457  
Cga PRP8                   CLQNGTRLLRADG 13  LEDLVCTHNHILSL 68  PTKWSGFVVDKDSLYL 161    DYLVLHNS 171  
Cgl VMA                    CFAKGTQVLMADG 13  DLSYTCNSNHTLVL 70  YGVTLD**DDSDHQFL 406    NLVLVHNC 416  
Cla PRP8                   CHAEGTELIKFDR 13  VESLVVTDNHIMML 72  STPWYGFAVDSDRQYL 513    DWMVLHNS 523  
Cmo ClpP                   CLTSDHTVLTTRG 13  GVDLFVTPNHRMYV 73  PVYCLTV***PNSVFY 443    KAVWTGNS 457  
Cmo RPB2 (RpoBb)           CLTPDHDVLTTKG 13  NINLLVTPNHRMYI 73  PVFCLTV***PNEVFY 683    IPVWTGNS 696  
Cne-A PRP8 (Fne-A PRP8)    CLQNGTRLLRADG 13  LEDLVCTHNHILSM 69  PTKWSGFVVDKDSLYL 162    DYLVLHNS 172  
Cne-AD PRP8 (Fne-AD PRP8)  CLQNGTRLLRADG 13  LEDLVCTHNHILSM 69  PTKWSGRVVDKDSLYL 163    DYLVLHNS 173  
Cne-JEC21 PRP8             CLQNGTRLLRADG 13  LEDLVCTHNHILSM 69  PTKWSGRVVDKDSLYL 163    DYLVLHNS 173  
Cpa ThrRS                  CLSEDMRIQTDKG 13  GVSLLVTEDHDMYV 86  RVWCVTV**PTGLIVA 160    KPVVIGNC 183  
Cre RPB2                   CLSEEHQVLTNEG 13  GLSLVVTPGHDMYL 92  RTWCVS****LPHTYI 408    LPTILGNC 432  
CroV Pol                   SVIGDTPLLLKNF 13  NGEVIVTDEHSLLN 90  YVYDLTT***ENHHFH 337    GSIIVHNT 348  
CroV RIR1                  CFTPDTPIFTNDG 13  LEEIKCTKEHDILI 70  YVYDLNI**EENHNYL 327    SSGIVHNS 336  
CroV RPB2                  CQKYDTLVLTHLG 13  SIDIECTINHKLYC 73  KVYCIEV**PDSHIYY 132    PPVWIGNS 147  
CroV Top2                  CISSDTNVLIWNS 13  GENYSVNNNHTLTL 69  DYVSITVDTTTNQRFL 378    DFTVTHNC 388  
Cst RPB2                   CLTPSHEVLTENG 13  EIELQVTQEHYMWV 83  SVHCVEV**PEPHLFY 350    KGVWTGNS 363  
Ctr ThrRS                  CLSEDMRVQTNKG 13  SFSLFVTDNHDMYV 85  RVWCVTV**PTGLIIV 323    RPTIVGNC 346  
Ctr VMA                    CFTKGTQVMMADG 13  LMDFTVSADHKLIL 78  YGITLA**EETDHQFL 462    NMALVHNC 472  
Ctr-MYA3404 VMA            CFTKGTQVMMADG 13  LMDFTVSADHKLIL 78  YGITLA**EETDHQFL 462    NMALVHNC 472  
Ddi RPC2                   CLHPDTIITMSNG 13  GKEIICTNDHRFLT 78  EISDFTT*ESDYHSMI 456    NGFVSHNC 465  
Dhan GLT1                  CLASDTLVRTSEG 13  RVSFKCTPDHHLEL 73  EDGEFRAIEVSGGVFQ 599    NRLVVANC 608  
Dhan VMA                   CFAKGTEVLMADG 13  RIAFTCNAKHELVV 76  YGVTLP**DNSDHQFM 386    NQAVVHNC 395  
Eni PRP8                   CLANGTQLLRYDG 13  KEDLVVTANHILVL 69  ATEWAGFRVDKDQLYL 596    DYVVLHNS 606  
Eni-FGSCA4 PRP8            CLANGTQLLRYDG 13  KEDLVVTANHILVL 69  ATEWAGFRVDKDQLYL 596    DYVVLHNS 606  
Fte RPB2 (RpoB)            CLTPDHDVLTAEG 13  NLSLLVTLNHRMYV 73  KVFCLSV***PNEVFY 365    LPVWTGNS 378  
Gth DnaB                   CLSYATNQPYFLK 13  ISVIVSTVEHYVLT 86  NVYDFWI*PKTNNFFV 153    NALLVHNS 161  
HaV01 Pol                  SVTKETPLMLRTM 13  NGYVEVTEDHSLIS 98  YVYDVET**EDGIFHA 223    GEIIVKNT 233  
Hca PRP8                   CLAKGTQLLRYDG 13  KEDLVVTPNHILVL 69  MTEWAGFRVDKDQLYL 525    DFLVLHNS 535  
IIV6 RIR1                  CVAPETMILTEDG 13  GCTLSCTPEHKFII 68  RVDDTYC**FTEPINH 329    NGILTGQC 340  
Kex-CBS379 VMA             CFAKGTQVMMADG 13  LMNYVCSGNHKIVM 76  YGITVP**DNTDKQYL 493    SMALVHNC 503  
Kla-CBS683 VMA             CFSKGTEVMMGDG 13  KISFQCNSSHKLVL 74  FGVTLA**EESDHKFL 401    NMTLVHNC 411  
Kla-IFO1267 VMA            CFSKGTEVMMGDG 13  KISFQCNSSHKLVL 74  FGVTLA**EESDHKFL 401    NMTLVHNC 411  
Kla-NRRLY1140 VMA          CFSKGTEVMMGDG 13  KISFQCNSSHKLVL 74  FGVTLA**EESDHKFL 401    NMTLVHNC 411  
Lel VMA                    CFTKGTQVMMADG 13  SLNFTVSADHKLVL 71  YGITLS**ETSDHMFL 412    NLALVHNC 422  
Mca-CBS113480 PRP8         CLANGTMLLRYDH 13  KEDLVVTANHILVL 69  ATGWAGFRVDGDQLYL 542    DYLVLHNS 552  
Nau PRP8                   CLAKGTRLLRYDG 13  VEDLVVTPNHILVF 69  TTEWAGFRVDKDQLYL 155    DYLVLHNS 165  
Nfe-NRRL5534 PRP8          CLAKGTRLLRYDG 13  VEDLVVTPNHILVL 69  ATEWAGFRVDKDQLYL 146    DYLVLHNS 156  
Nfi PRP8                   CLAKGTRLLRYDG 13  KEDLVVTPNHILVL 69  TTEWAGFRVDKDQLYL 508    DYLVLHNS 518  
Ngl-FR2163 PRP8            CLAKGTRLLRYDG 13  VEDLVVTPNHILVL 69  TTEWAGFRVDKDQLYL 146    DYLVLHNS 156  
Ngl-FRR1833 PRP8           CLAKGTRLLRYDG 13  IEDLVVTPNHILVL 69  STEWAGFRVDKDQLYL 160    DYLVLHNS 170  
Nqu PRP8                   CLAKGTRLLRYDG 13  IEDLVVTPNHILVL 69  TTEWAGFRVDKDQLYL 160    DHLVLHNS 170  
Nspi PRP8                  CLAKGTRLLRYDG 13  IEDLVVTPNHILVL 69  STEWAGFRVDKDQLYL 160    DYLVLHNS 170  
Pabr-Pb01 PRP8             CLAKGTLLLRYDG 13  KEDLVVTPNHILVL 69  TTEWAGFRVDQDQLYL 550    DFLVLHNS 560  
Pabr-Pb03 PRP8             CLAKGTLLLRYDG 13  KEDLVVTPNHILVL 69  ATEWAGFRVDQDQLYL 564    DFLVLHNS 574  
Pan CHS2                   CLSPDTMVRTTNG 13  KSSFTCTPDHIMTL 73  GEFRLI**EVSGELFQ 640    DRTVVHNC 650  
Pan GLT1                   CLHPSTTVRTLAG 13  KKSFKCTPDHILPL 73  DDYRAI**QVSGSLFQ 673    NGLVTHNC 683  
Pbl PRP8-a                 CFSGDTFLLLADG 13  GEALEVTGNHILCL 68  PQTYYGFRIDGNQRFL 189    DGLVVHNS 199  
Pbl PRP8-b                 CFAGDTFLLLADG 13  GEALEVTGNHILCL 68  PQTYYGFRIDGNQRFL 189    DGLVVHNS 199  
Pbr-Pb18 PRP8              CLAKGTLLLRYDG 13  KEDLVVTPNHILVL 69  ATEWAGFRVDQDQLYL 564    DFLVLHNS 574  
Pch PRP8                   CLAKGTRLLRCDG 13  KEDLVVTPNHILVF 69  KTEWAGFRVDKDQLYL 148    DYLVLHNS 158  
Pex PRP8                   CLAKGTRLLRYDG 13  KEDLVVTPNHILVL 69  ETEWAGFRVDKDQLYL 153    DYLVLHNS 163  
Pgu GLT1                   CLASDTLVRTTQG 13  LVSFKCTPDHHLEL 73  GEFRAI**EVSGGKFQ 544    NGLQIANC 554  
Pgu-alt GLT1               CLASDTLVRTTQG 13  LVSFKCTPDHHLEL 73  GEFRAI**EVSGGKFQ 544    NGLQIANC 554  
Pno GLT1                   CLETATVVRTKQG 13  VDSFTCTPDHELLL 73  GSYRGI**EVSGHEFQ 626    NRTMVSNC 636  
Pno RPA2                   CLSADHEVLTSTG 13  DMDAVCNESHRWYL 73  EYSDNDKIQEVIDAAQ 449    KPFFTGNC 457  
Ppu DnaB                   CISKFSHIMWSHV 13  EKYLELTSNHKILT 74  NVFDFAA**NPIPNFI 142    NNIIVHNS 151  
Pst VMA                    CFAKGTKVLMANG 13  TASYTCNATHKLVL 77  YGITLS**EDSDHQFL 440    NLALVHNC 450  
Ptr PRP8                   CLQNGTKLLRYDA 13  KEDLVVTSNHILVL 69  PTGWSGFKVDQDQLYL 835    DYIVLHNS 845  
Pvu PRP8                   CLAKGTRLLRYDG 13  KEDLVVTPNHILVL 69  KTEWAGFRVDKDQLYL 152    DYLVLHNS 162  
Pye DnaB                   CISKFNYLQTSLY 13  GKYIQLTSNHKLLT 76  IVFDLEC**KPLCNFI 140    NNFIVHNS 149  
Sas RPB2                   CLTPDHEVLTERG 13  HVSLITTPNHRMWT 72  KVHCIEV***PGHVFY 342    KAVWTGNS 355  
Sca-CBS4309 VMA            CFAKGTEVLMADG 13  LMNYVCSGNHKLVL 78  YGITLP**DETDKQYL 508    SLALVHNC 518  
Sca-IFO1992 VMA            CFAKGTEVLMADG 13  LMNYVCSGNHKLVL 78  YGITLP**DETDKQYL 508    SLALVHNC 518  
Scar VMA                   CFAKGTTVLMADG 13  LLKFTCNSTHELVV 83  YGITLS**DDSDHQFL 445    NQVVVHNC 455  
Sce VMA                    CFAKGTNVLMADG 13  LLKFTCNATHELVV 83  YGITLS**DDSDHQFL 445    NQVVVHNC 455  
Sce-DH1-1A VMA             CFAKGTNVLMADG 13  LLKFTCNATHELVV 83  YGITLS**DDSDHQFL 445    NQVVVHNC 455  
Sce-JAY291 VMA             CFAKGTNVLMADG 13  LLKFTCNATHELVV 83  YGITLS**DDSDHQFL 445    NQVVVHNC 455  
Sce-OUT7091 VMA            CFAKGTNVLMADG 13  LLKFTCNATHELVV 83  YGITLS**DDSDHQFL 445    NQVVVHNC 455  
Sce-OUT7112 VMA            CFAKGTNVLMADG 13  LLKFTCNATHELVV 83  YGITLS**DDSDHQFL 445    NQVVVHNC 455  
Sce-YJM789 VMA             CFAKGTNVLMADG 13  LLKFTCNATHELVV 83  YGITLS**DDSDHQFL 445    NQVVVHNC 455  
Sda VMA                    CFAKGTQVMMADG 13  VMDYVCSGNHKLVL 79  YGITLP**DSTDKQYL 492    SLALVHNC 502  
Sex-IFO1128 VMA            CFAKGTQVMMADG 13  LMNYVCSGNHKIVM 76  YGITVP**DNTDKQYL 490    SMALVHNC 500  
She RPB2 (RpoB)            CLTVDHEVLTTKG 13  NLDLLVTLNHRMYV 83  AVYCLSV***PNEIFY 378    LSVWTGNS 391  
Sja VMA                    CFAKGTEVLMANG 13  NLSYTCNATHKLVL 77  YGVTLA**EDSDHQFL 467    NLTLVHNC 477  
Spa VMA                    CFAKGTNVLMADG 13  LLKFTCNATHELVV 83  YGITLS**DDSDHQFL 445    NQVVVHNC 455  
Spu PRP8                   CLAAGTKVMVVRN 13  SQEYTVTEGHLLSL 76  TYFRFSV**DGYQSRF 463    DWTVVHNC 474  
Sun VMA                    CFEKGTEVLMADG 13  LMDYVCSGNHKFVL 75  YGVTLP**DATDKQYL 405    SLALVHNC 415  
Tgl VMA                    CFAKGTPVMMHDG 13  LFEYTCNATHKLVV 84  YGITLS**ENSDHQFM 447    NQLVVHNC 457  
Tpr VMA                    CFAKGTKVLLHDG 13  LFEYTCNATHKLVV 84  YGLTLA**NGTDHQFM 446    NQLVVHNC 456  
Ure-1704 PRP8              CLAKGTRLLRYDR 13  VEDLVVTPNHILVF 69  ETEWAGFRVDQDQLYL 171    DYLVLHNS 181  
Vpo VMA                    CFAKGTEVMMADS 13  LFSFVCNATHQLIV 74  YGITLP**EYSDHQFM 434    NQVVVHNC 434  
WIV RIR1                   CVVGETLILTENG 13  GIFIVCTEYHRFLV 68  NTYCFT**EQLNNAGV 130    NGILTSNC 139  
Zba VMA                    CFAKGTEVMMHDG 13  LFEYNCNATHKLVV 84  YGITLA**KESDHQFL 447    NQLVVHNC 457  
Zbi VMA                    CFAKGTEVMMSDA 13  LSEYTCNATHKLVV 81  YGLTLS**NDSDHQFL 441    NQLVVHNC 451  
Zro VMA                    CFAKGTEVMMSDG 13  LFEYTCNATHKLVV 83  YGLTLS**NESDHQFL 441    NQLVVHNC 451  
Eubacteria
Intein                     Block A           Block B            Block F                 Block G       
AP-APSE1 dpol              CLAKGTLVLTITG 13  AYGVGMTADHQVLT 62  EVYDLIN*CGPRNRFV 294    GPLIVHNC 307  
AP-APSE2 dpol              CLAKGTLVLTITG 13  AYGVGMTADHQVLT 62  EVYDLIN*CGPRNRFV 294    GPLIVHNC 307  
AP-APSE4 dpol              CLAKGTLVLTITG 13  AYGVGMTADHQVLT 62  EVYDLIN*CGPRNRFV 294    GPLIVHNC 307  
AP-APSE5 dpol              CLAKGTLVLTITG 13  AYGVGMTADHQVLT 62  EVYDLIN*CGPRNRFV 294    GPLIVHNC 307  
AP-Aaphi23 MupF            CFPGQSELKGLPR 13  GTVLLATPNHPILT 47  QASCHIYNLQTVSGYY 316    NSVFVSNC 326  
Aae RIR2                   CFIEGTEVLTKRG 13  NWEVVATEGHEFIV 75  KVYCVSV**PKGNIVV 335    SVCIAGNC 347  
Aave-AAC001 Aave1721       CVDDTTEALTQRG 13  TLDMLMTPDHRVVH 73  RVWCPIV*PGTSTWVA 322    MPFITHNT 334  
Aave-AAC001 RIR1           CVTADTWVMTDAG 13  GHALRLTEDHLVRR 70  DVYDVTVA**DCHAFD 380    NGLCVHNC 389  
Aave-ATCC19860 RIR1        CVTADTWVMTDTG 13  GYALRLTEDHPVRR 70  DVYDVTVA**DCHAFD 380    NGLYVHNC 389  
Aba Hyp-02185              CFGKGTLIKLANG 13  GKAHTFNKSHILCL 69  KYYGFV**LDPDPFFL 140    DDLVLHNT 150  
Ace RIR1                   CQPYSAPVSTPDG 13  GHVLDVTPDHLVWQ 71  PVYDIQT***ESGEYL 145    DGIRVHNC 154  
Aeh DnaB-1                 CIMAGSRLVDPRT 13  GREIATTLTHPFLT 76  QVYDLTV**DGTHNFV 493    EDVCVHNT 502  
Aeh DnaB-2                 CVTGDTRVLLADG 13  GRTIRCTPEHRLRG 74  EVFDLTV**PGNACWL 410    DGIVSHNS 419  
Aeh RIR1                   CVTADTWVQTADG 13  GYRLKLTADHRVRR 70  EVYDVQV**PGINTFD 369    NGLHAHNC 378  
AgP-S1249 MupF             CFPGQSELKGLPR 13  GTVLLATPNHPILT 47  QASCHIYNLQTVSGYY 316    NSVFVSNC 326  
Aha DnaE-c                                                      NVYDVCV**ETDHNFV C27    NGLVASNC C37  
Aha DnaE-n                 CLSYDTEIWTVEY N13 GRKIRATKDHKMMT N76                                       
Alvi-DSM180 GyrA           CFTGDTAIKLADG 13  GDVVRCTPDHRFML 79  DTYDITV**DHHHNFL 511    CGVFVHNS 521  
Ama MADE823                NIAHSTPVLTANR 13  GEKIRCHANHEWTV 68  KGHCIQV*DSPDGLYL 334    KLVATHNS 345  
Amax-CS328 DnaX            CLTGDALILSDRG 13  QTEIKCTGNHLIRT 73  HVYDIEV**EHNHNFV 128    NGLLVHNC 137  
Aov DnaE-c                                                      NVYDIGV**EHHHNFA C27    NGLIASNC C37  
Aov DnaE-n                 CLSADTEILTVEY N13 GSIIRATKDHKFMT N76                                       
Apl-C1 DnaX                CLTGDALILSDRG 13  QTEIKCTGNHLIRT 73  HVYDIEV**EHNHNFV 128    NGLLVHNC 137  
Arsp-FB24 DnaB             GLALDTPIPAPKG 13  GTSLVASDGNLWQA 69  LVRGIRV*DTKDSLFQ 322    GCQLTHNT 333  
Asp DnaE-c                                                      NVYDIGV**RRDHNFF C27    NGLIASNC C37  
Asp DnaE-n                 CLSYDTEVLTVEY N13 GSIIKATKDHKFMT N76                                       
Ava DnaE-c                                                      NVYDIGV**GRDHNFF C27    NGLIASNC C37  
Ava DnaE-n                 CLSYDTEVLTVEY N13 GSIIKATKDHKFMT N76                                       
Avin RIR1 BIL              CFAPETLVHTADG 13  VEPIEVTAGHPFYA 70  FVFDLKV**EGDESYM 370    TSGLAHNG 379  
Bce-MCO3 DnaB              AQPLDARVRTLTG 13  GRSAECCDEHLWCV 68  ATQCISV*SHPSRLYV 338    DYVVTHNT 348  
Bce-PC184 DnaB             AQPLDARVRTLTG 13  GRSAECCDEHLWCV 68  ATQCISV*SHPSRLYV 339    DYVVTHNT 348  
Bse-MLS10 TerA             QLALDTPIPTPDG 13  GQSIVAGERHLWQV 69  PMRCIQV*DSPSRLYL 322    SMVPTHNS 333  
BsuP-M1918 RIR1            CVTGETLLLTENG 13  GYEIRATEWHKFYV 83  DVYDTTQ**EDYHSLI 377    NGIVTGNC 386  
BsuP-SPBc2 RIR1            CVTGETLLLTENG 13  GYEIRATEWHKFYV 83  DVYDTTQ**EDYHSLI 377    NGIVTGNC 386  
Bvi IcmO                   PQPLHSLVRMADG 13  GRSVEAARVHHWPV 69  PARCLVV*ADEMHCYI 133    HDIVTHNC 143  
CP-P1201 Thy1              CYSSDTEVLTSEG 13  GVDLLVTPNHKMLA 72  TVYCATV**PNHTLYV 334    PVWSGGNS 346  
Cag RIR1                   CVTADTLIATDRG 13  GYQLKLTGDHVVFT 69  AVFDLTE*PETDHFIA 363    NGIGVHNC 371  
Cau SpoVR                  CLHGDSLIVTDHG 13  GFTLTGSHNHRIML 70  DVYDISV**TATHRYA 268    QGFINHNS 277  
CbP-C-St RNR               CFDGQQKTLTKSS 13  NKEILVTEDHINVT 81  YVYCFEMKNIEEPYFT 321    NGIITHNC 331  
CbP-D1873 RNR              CFDGQQKTLTKSS 13  NKELLVTEDHINVT 81  YVYCFEMKNIEEPYFT 321    NGVITHNC 331  
Cbu-Dugway DnaB            CVTGDTLICLADG 13  GRSIKATAEHRLLA 71  EVYDLTV**PKYASWL 138    DGVVSHNS 147  
Cbu-Goat DnaB              CVTGDTLICLADG 13  GRSIKATAEHRLLA 71  EVYDLTV**PKYASWL 138    DGVVSHNS 147  
Cbu-RSA334 DnaB            CVTGDTLICLADG 13  GRSIKATAEHRLLA 71  EVYDLTV**PKYASWL 138    DGVVSHNS 147  
Cbu-RSA493 DnaB            CVTGDTLICLADG 13  GRSIKATAEHRLLA 71  EVYDLTV**PKYASWL 138    DGVVSHNS 147  
Cce Hyp1-Csp-2             CFPAKTLILTDQG 13  ENTICCTPDHPFAT 80  RVYNFTV**EDNHNYI 395    TPVLVHNC 409  
Cch RIR1                   CVTADTLIATDRG 13  GYQLKLTGDHVVFT 69  AVFDLTE*PETDHFIA 363    NGIGVHNC 371  
Ccy Hyp1-Csp-1             CFTGDTLIPLVDG 13  GEEIKCTPDHQFML 76  DVYCLTV**PEYNNFA 185    AGVFVHNC 195  
Ccy Hyp1-Csp-2             CFPAKTLILTEKG 13  ENTICCTPNHPFAT 80  EVYNFTV**EDNHNYI 396    TPVLVHNC 410  
Cfl-DSM20109 DnaB          ALALDTPLPTPTG 13  GSTIVADAQHQWAT 69  PVRCVEISHQSHLYL 310     AMIPTHNS 321  
Chy RIR1                   CVTGDTLVFTDKG 13  GLEIKVTEEHKIFT 67  EVFDITA**PPKYTWI 337    NGILSLDC 346  
Ckl PTerm                  ALDLDTPIDTPTG 13  GEFIIADTEHIWTV 69  PVKCIAV*EDEKKLYL 392    NHTATHNT 403  
Cra-CS505 DnaE-c                                                DVYDIGV**AKDHNFI C27    NGLVASNC C37  
Cra-CS505 DnaE-n           CLSYETEVLTLEY N13 GSTIRATKDHKFMT N76                                       
Cra-CS505 GyrB             CFVGNTLVSLTDG 13  DQVLICTPDHLFML 80  DVYDLEV**PHTHNFA 144    AGVFVHNS 154  
Csp-CCY0110 DnaE-c                                              NVYDIGV**EKDHNFL C27    NNLIASNC C37  
Csp-CCY0110 DnaE-n         CLSYDTEILTVEY N13 GETIRATKDHKFMT N76                                       
Csp-PCC7424 DnaE-c                                              PVYDIGV**EKDHNFL C27    DGLIASNC C37  
Csp-PCC7424 DnaE-n         CLSYETQIMTVEY N13 GSTIRATKDHKFMT N76                                       
Csp-PCC7425 DnaB           CLTGDSLITLADT 13  GRAIRATGNHKFLT 77  DVFDLTV**PEHHNFV 421    NNIIVHNS 430  
Csp-PCC7822 DnaE-n         CLSYDTEILTVEY N13 GSIIRATKDHKFMT N76                                       
Csp-PCC8801 DnaE-c                                              FVYDIGVA**QDHNFL C27    NGSIASNC C37  
Csp-PCC8801 DnaE-n         CLSYDTEILTVEY N13 GSILRATKDHQFMT N76                                       
Cth ATPase BIL             CFVAGTMILTVAG 13  GDVIKTTFEHLFYA 72  KVYNFQV**DDFHTYH 125    NGVLVHNV 136  
Cth-ATCC27405 TerA         QLALDTPIPTPDG 13  GTSIVAGERHLWKV 69  KMRCIQV*DSPSRLYL 323    SMIPTHNS 334  
Cth-DSM2360 TerA           QLALDTPIPTPDG 13  GSSIIAGARHLWKV 69  PMRCIQVSSPSRQYL 329     SMVPTHNS 340  
Cwa DnaB                   CLATNSEIILADG 13  GRYIETTLTHPYLT 75  QVYDLTI**PKTHNFV 488    NDICVHNT 497  
Cwa DnaE-c                                                      KVYDIGV**EKDHNFL C27    NGSIASNC C37  
Cwa DnaE-n                 CLSYDTEILTVEY N13 GSKIKATKDHKFMT N76                                       
Cwa PEP                    CFDGKTKILTNQG 13  DNTLRLTPDHKMVN 81  DVYNITV**AEHHNYV 381    TPVVVCNC 395  
Cwa RIR1                   CVAPETKILTDRG 13  GESLDCTYYHKFHV 68  CRYDDTYCFSEPKRHL 337    NGILTGQC 348  
Daud RIR1                  CVTGDTWVTTGAG 13  GYTVRLTADHMILR 70  DVYDVQV**PGINAFD 367    NGIVAHNC 376  
Dge DnaB                   CVTADTLIDVPGT 13  GRVVETTPHHPFLG 76  QVYDLTV**PGDANFI 394    ADICLHNT 402  
Dha-DCB2 RIR1              CVTGDTWVLTEEG 13  GYELKVTADHLVRV 80  EVFDAQV**PGINAFD 358    NGIYVHNC 367  
Dha-Y51 RIR1               CVTGDTWVLTEEG 13  GYELKVTADHLVRV 80  EVFDAQV**PGINAFD 358    NGIYVHNC 367  
Dpr-MLMS1 RIR1             CVTADTFVMTAEG 13  GYSVRLTADHPVMQ 70  EVFDIQV**PGVHAFD 368    NGLMLHNC 377  
Dra RIR1                   CVTADTWVSTAFG 13  GYELRLTGNHQLLK 69  AVYDVTV**EQVHAFD 308    NGVLAHNC 367  
Dra Snf2-c                                                      PAQCIAV*DAPDHLYV C148   GYIVTHNT C158 
Dra Snf2-n                 AQPLDAKVLTPLG 13  GASVEADAEHLWNV N68                                       
Dra-ATCC13939 Snf2         AQPLDAKVLTPLG 13  GASVEADAEHLWNV 68  PAQCIAV*DAPDHLYV 334    GYIVTHNT 344  
Dth UDP GD                 CLLGKEKILVKNS 13  NRKLIVTEKHPMLR 98  DVYSLEV**ENTHTFA 472    SGIYVHNC 482  
Dvul ParB                  CQPAGTMVQKVID 13  GRVTRATPEHRFTV 86  YSMDVD***KDLHYVA 281    DGLVTHNC 289  
EP-Min27 Primase           ACPLNEPILLADG 13  GRYVDCAGDHLWEV 69  ECLCIMV*DHPRHLYV 333    GYVATHNT 343  
Fal DnaB                   ALALGTALPTPTG 13  GSVIVADGQHQWIT 69  PVRCVEVD*SPDHLYL 398    TCIPTHNS 409  
Fsp-CcI3 RIR1              CQPYDALVSTPSG 13  GHALDVTADHLVWR 71  PVYDIQT***DSGEYL 286    AGLRVHNC 295  
Gob DnaE                   CVVAGTEVTDAET 13  GKSITATDNHPFRV 77  DTYDLTV**DEDHNFV 438    NGLIVHNS 447  
Gob Hyp                    CQPAGTQVAKVIK 13  AVTGITSRRHTGNL 64  EVWSMDV*ERDKHYVA 280    DGIVVHNC 288  
Gvi DnaB                   CCAADTPIADPVT 13  GREVKTTLTHPYLT 80  QVYDLTV**PVTHNFV 250    ADICLHNT 259  
Gvi RIR1-1                 CFAAGTLLHTEQG 13  GYSVEVTANHKMAR 69  RVYDIEV**EGMHLLS 405    NGIYTSNS 414  
Gvi RIR1-2                 CVTADTWVHTGDG 13  GHQLRLTGNHQVLK 70  EVYDCTV**PGPARFD 359    NGLVVHNC 368  
Hhal DnaB                  CLAYDAEIVQADG 13  GRRIETTLTHPFLT 75  QVYDLTI**PETHNFI 484    NDVCVHNT 493  
Kfl-DSM17836 DnaB          ALALDTPLPTPSG 13  GTTLVADAEHQWVV 69  PVRCVEV*DNPDHLYL 146    SMVPTHNS 157  
Kra DnaB                   CLTAGTRVLRADT 13  GKTVRATANHPFLT 78  QVYDATV**LGGHNFV 420    DGIAVHNS 429  
LLP-KSY1 PolA              CFSGDTEILTPYG 13  VYEDTNTSIHATGN 67  DVYCVNV***PTHNIV 291    KVSIQGNC 304  
LP-phiHSIC Helicase        CHAYGHDIMMSDG 13  YIRSSSTFKHRSKL 102 GVGDYYGF/DGDHLYL 330    DFVRHHNC 340  
Lsp-PCC8106 GyrB           CFTGDTLVPLADG 13  GAEIKCTPDHQFML 76  DVYCLTV**PEYHNFA 222    DGVFVHNC 232  
MP-Be DnaB                 PLALNTEVPTPSG 13  GTEITASASHGWTT 69  PVKCIGI*DTEDHLFQ 331    SRILTHNT 342  
MP-Be gp51                 CSWTNARAVTRRG 13  EINATITANHRVVG 72  EVWCLRV**PNGRFFI 306    KIHLTGNS 318  
MP-Catera gp206            SLACSTPILTTNG 13  GQEVVTDAEHLWQV 69  PVRCITV*AHESSLYV 321    GFVPTHNT 332  
MP-KBG gp53                CSWTNARAVTRRG 13  EINATITANHRVVG 72  EVWCLRV**PNGRFFI 306    KIHLTGNS 318  
MP-Mcjw1 DnaB              ALDVETPILTGNG 13  GAELVASDHHLWAV 68  ETVCIQI*DHPSHVFL 320    SLTPTHNT 332  
MP-Omega DnaB              ALAIDTPILSERG 13  GQTIVADEDHLWTV 68  PTRCITV*DNDSRLYV 330    GFVPTHNT 341  
MP-U2 gp50                 CSWTNARAVTRRG 13  EINATITANHRVVG 72  EVWCLRV**PNGRFFI 306    KIHLTGNS 318  
Maer-NIES843 DnaB          CLAGDSLVELAAP 13  GRTIRATANHKFLT 77  EVYDLTV**DKLHNFI 134    NNIIVHNS 143  
Maer-NIES843 DnaE-c                                             PVYDIGV**EKDHNFL C27    NGLIASNC C37  
Maer-NIES843 DnaE-n        CLGGETLILTEEY N13 GQTIQATKDHKFMT N76                                       
Mau-ATCC27029 GyrA         CLAADVRVRTVDG 13  GYELTGTHNHPVLC 78  PVYSIRVD*TEDHSFV 412    DGFVSHNT 421  
Mav-104 DnaB               ALALDTPLPTPTG 13  GTVIVADAAHQWLT 70  AVRCVEV*DNDSHMYL 327    AMVPTHNS 338  
Mav-ATCC25291 DnaB         ALALDTPLPTPTG 13  GTVIVADAAHQWLT 69  AVRCVEV*DNDSHMYL 327    AMVPTHNS 338  
Mav-ATCC35712 DnaB         ALALDTPLPTPTG 13  GTVIVADAAHQWLT 70  AVRCVEV*DNDSHMYL 327    AMVPTHNS 338  
Mav-PT DnaB                ALALDTPLPTPTG 13  GTVIVADAAHQWLT 69  AVRCVEV*DNDSHMYL 407    AMVPTHNS 418  
Mbo Pps1                   CLPAGELITTADG 13  ANAFSVTAEHPLLA 71  PVYNLDV**ENPDSYL 351    YGFAVHNC 360  
Mbo RecA                   CLAEGTRIFDPVT 13  GAIVWATPDHKVLT 77  RTFDLEV**EELHTLV 432    EGVVVHNC 441  
Mbo SufB (Mbo Pps1)        CLPAGELITTADG 13  ANAFSVTAEHPLLA 71  PVYNLDV**ENPDSYL 351    YGFAVHNC 360  
Mbo-1173P DnaB             CLTASTRILRADT 13  GREVEATGSHPFMK 77  HVFDGTV**SGTHNFV 408    NGISLHNS 417  
Mbo-AF2122 DnaB            CLTASTRILRADT 13  GREVEATGSHPFMK 77  HVFDGTV**SGTHNFV 408    NGISLHNS 417  
Mca MupF                   CFPAETPVRAAAR 13  GHRLTLTANHPVLT 45  HVYDFET**ETGLIMA 307    GGVIVHNC 315  
Mca RIR1                   CVTADTWVMTASG 13  GHTLRLTANHPVLR 70  AVYDVTV**ADVHAFD 372    NGLYVHNC 381  
Mch RecA                   CFNYSTRVQLADG 13  RSQFAATPNHLIRT 83  NRFDIEV**EGNHNYF 356    DGVMVHNS 365  
Mcht-PCC7420 DnaE-1        CLSGSTEIIDAET 13  NRKIKATADHRFYS 81  EVFDLSI**SQTHNLI 184    NDFIAHNC 193  
Mcht-PCC7420 DnaE-2c                                            PVYDIGV**ERDHNFL N27    NGSVASNC N37  
Mcht-PCC7420 DnaE-2n       CLSYDTQILTVEY N13 GATIRATKDHKFMT N76                                       
Mcht-PCC7420 GyrB          CFDGDTRVALADG 13  GETLICTPDHPFMV 80  DVYDIEV**PHTHNFA 206    SGVFVHNS 216  
Mcht-PCC7420 RIR1-1        CLPEGSLVHTESG 13  DGYLDCTPDHKVAV 66  PTYDI**EVATIHEFV 386    EGILVSNS 395  
Mcht-PCC7420 RIR1-2        CVTADTWVHTEFG 13  GVSLRLTGNHQILR 70  SVYDCTV**PGVSRFD 333    NGIVAHNC 342  
Mex Helicase               CFAAGTLIKTPKG 13  GTSIVCTHDHPFFC 66  AVYNLRV**SGHPSYF 262    GGVLVHNC 271  
Mex TrbC                   ALPLDALVHTPAG 13  GRTAEACPEHLWEV 68  QAACIRI*DHPDHLFI 356    DYVVTHNT 366  
Mfa RecA                   CFSYGTRVQLADG 13  RSQFAATPNHLIRT 83  NRFDIEV**EGNHNYF 355    DGVMVHNS 364  
Mfl GyrA                   CVTGDALVRLPFG 13  GYEVTGTANHPLLC 79  PVYSLRV*DTDDHSFL 412    NGFVSHNT 422  
Mfl RecA                   CFAYGTRGALADG 13  KSQFAATPNHLIRT 83  NRFDIEV**EGNHNYF 356    DGVMVHNS 365  
Mfl-ATCC14474 RecA         CFNYSTRVQLADR 13  KSQFAATPNHLIRT 83  NRFDIEV**EGNHNYF 356    DGVMVHNS 365  
Mfl-PYR-GCK DnaB           ALALDTPLPTPTG 13  GTVLVADAEHQWLT 69  PVRCVEV*DNDDHLYL 407    SMIPTHNS 418  
Mga GyrA                   CTTGDTLVRLPFG 13  GYEVTGTANHPLLC 79  PVYSLRV*DTDDHAFL 398    NGFVSHNT 421  
Mga RecA                   CGSWYTNVTLADG 13  HASLAMTRNHLIRT 86  SRFDIEV**EGSHNYF 360    DGVMVHNS 369  
Mga SufB (Mga Pps1)        CLAGDTLWTANRG 13  RRSVRATDNHPMLV 73  PVYDIEV**DGPHNFV 357    EGLVVNHS 379  
Mgi-PYR-GCK DnaB           ALALDTPLPTPTG 13  GTVLVADAEHQWLT 69  PVRCVEV*DNDDHLYL 407    SMIPTHNS 418  
Mgi-PYR-GCK GyrA           CVTGDAMVRLPFG 13  GYEVTGTSNHPLLC 79  PVYSLRV*DTDDHSFI 412    NGFVSHNT 422  
Mgo GyrA                   CLTGDALVRLPFG 13  GYEVTGTSNHPVLC 79  PVYSLRV*DSEDHAFL 412    NGFVSHNT 421  
Min-1442 DnaB              ALALDTPLPTPTG 13  GTVIVADAAHQWLT 69  AVRCVEV*DNGSHLYL 325    AMVPTHNS 336  
Min-ATCC13950 GyrA         CVTADALVRLPFG 13  GYEVTGTANHPLLC 79  PVYSLRV*DTEDHAFL 412    NGFVSHNT 421  
Mkas GyrA                  CVTGDALVRLPFG 13  GYEVTGTANHPLLC 79  PVYSLRV*DTDDHAFL 412    NGFVSHNT 421  
Mkas-ATCC12478 GyrA        CVTGDALVRLPFG 13  GYEVTGTANHPLLC 79  PVYSLRV*DTDDHAFL 412    NGFVSHNT 421  
Mle-Br4923 GyrA            CVSGNSLVRLLFG 13  GYEITGTSNHPLLC 79  PVFSLHV*DTEDHSFL 412    NGFISHNT 421  
Mle-TN DnaB                ALALDTPLPTPTG 13  GTVIVADAQHQWPT 69  PVRCVEV*DNAAHLYL 135    GMVPTHNS 146  
Mle-TN GyrA                CVSGNSLVRLLFG 13  GYEITGTSNHPLLC 79  PVFSLHV*DTEDHSFL 412    NGFISHNT 421  
Mle-TN RecA                CMNYSTRVTLADG 13  KSQFAATPNHLIRT 83  NRFDIEV**EGNHNYF 357    DGVMVHNS 366  
Mle-TN SufB (Mle Pps1)     CLTADARINVKGK 13  GRALEATGNHQFLV 72  PTYDIQV**VGLENFV 378    NGIVAHNS 387  
Mma GyrA                   CCTGDALVRLPFG 13  GYEVTGTSNHPLLC 79  PVYSLRV*DTDEHAFL 412    NGFVSHNT 421  
Mmag Magn8951 BIL          CFVAGTPVRMADG 13  SLDFFVTADHPFLT 68  VVYNLHL**IGNNTYV 133    SGYYVHNY 142  
Msh RecA                   CMNYSTRVTLADG 13  KSQFAATPNHLIRT 83  NRFDIEV**EGNHNYF 356    DGVMVHNS 365  
Msm DnaB-1                 ALALDTPLPTPSG 13  GTAIVADAQHQWPT 69  PVRCVEV*DNPEHLYL 129    GMVPTHNS 140  
Msm DnaB-2                 CMTANTRILRADT 13  GREVEATANHPFLT 68  DVYDGTV**PGTHNFV 417    QGISAHNS 426  
Msp-KMS DnaB               ALALDTPLPTPDG 13  GTVIVADAQHQWLT 69  PVRCVEV*SNDSHMYL 312    SMVPTHNS 323  
Msp-KMS GyrA               CVTGDALVRLPLG 13  GYTVTGTENHPLLC 79  PVYSLRV*DTEDHAFI 413    NGFVSHNT 422  
Msp-MCS DnaB               ALALDTPLPTPDG 13  GTVIVADAQHQWLT 69  PVRCVEV*SNDSHMYL 312    SMVPTHNS 323  
Msp-MCS GyrA               CVTGDALVRLPLG 13  GYTVTGTENHPLLC 79  PVYSLRV*DTEDHAFI 413    NGFVSHNT 422  
Mthe RecA                  CFDYSTRAQLADG 13  RARFAATPNHLIRT 83  NRYDIEV**EGNHNYF 357    DGVMVHNS 366  
Mtu SufB (Mtu Pps1)        CLPAGELITTADG 13  ANAFSVTAEHPLLA 71  PVYNLDV**ENPDSYL 351    YGFAVHNC 360  
Mtu-C RecA                 CLAEGTRIFDPVT 13  GAIVWATPDHKVLT 77  RTFDLEV**EELHTLV 432    EGVVVHNC 441  
Mtu-CDC1551 DnaB           CLTASTRILRADT 13  GREVEATGSHPFMK 77  HVFDGTV**SGTHNFV 408    NGISLHNS 417  
Mtu-CPHL RecA              CLAEGTRIFDPVT 13  GAIVWATPDHKVLT 77  RTFDLEV**EELHTLV 432    EGVVVHNC 441  
Mtu-Canetti RecA           CLAEGTRIFDPVT 13  GAIVWATPDHKVLT 77  RTFDLEV**EELHTLV 432    EGVVVHNC 441  
Mtu-EAS054 RecA            CLAEGTRIFDPVT 13  GAIVWATPDHKVLT 77  RTFDLEV**EELHTLV 432    EGVVVHNC 441  
Mtu-F11 DnaB               CLTASTRILRADT 13  GREVEATGSHPFMK 77  HVFDGTV**SGTHNFV 408    NGISLHNS 417  
Mtu-H37Ra DnaB             CLTASTRILRADT 13  GREVEATGSHPFMK 77  HVFDGTV**SGTHNFV 408    NGISLHNS 417  
Mtu-H37Rv DnaB             CLTASTRILRADT 13  GREVEATGSHPFMK 77  HVFDGTV**SGTHNFV 408    NGISLHNS 417  
Mtu-H37Rv RecA             CLAEGTRIFDPVT 13  GAIVWATPDHKVLT 77  RTFDLEV**EELHTLV 432    EGVVVHNC 441  
Mtu-Haarlem DnaB           CLTASTRILRADT 13  GREVEATGSHPFMK 77  HVFDGTV**SGTHNFV 408    NGISLHNS 417  
Mtu-K85 RecA               CLAEGTRIFDPVT 13  GAIVWATPDHKVLT 77  RTFDLEV**EELHTLV 432    EGVVVHNC 441  
Mtu-R604 RecA-n            CLAEGTRIFDPVT 13  GAIVWATPDHKVLT 77                                        
Mtu-So93 RecA              CLAEGTRIFDPVT 13  GAIVWATPDHKVLT 77  RTFDLEV**EELHTLV 432    EGVVVHNC 441  
Mtu-T17 RecA-c                                                  RTFDLEV**EELHTLV C347   EGVVVHNC C356 
Mtu-T17 RecA-n             CLAEGTRIFDPVT N13 VAAAKDGTLHARPV N45                                       
Mtu-T46 RecA               CLAEGTRIFDPVT 13  GAIVWATPDHKVLT 77  RTFDLEV**EELHTLV 432    EGVVVHNC 441  
Mtu-T85 RecA               CLAEGTRIFDPVT 13  GAIVWATPDHKVLT 77  RTFDLEV**EELHTLV 432    EGVVVHNC 441  
Mtu-T92 RecA               VPRRGHSDLRSGH 13  GAIVWATPDHKVLT 77  RTFDLEV**EELHTLV 432    EGVVVHNC 441  
Mvan DnaB                  ALALDTPLPTPTG 13  GTVIVADAEHQWLT 69  PVRCVEV*DNDDHMYL 406    SMIPTHNS 417  
Mvan GyrA                  CLTGDSMVRLPFG 13  GYEVTGTANHPLLC 79  PVYSLRV*DTDDHSFI 413    NGFVSHNT 422  
Mxa RAD25                  CVKNDSLIFTDRG 13  GYELEATPEHPIRV 77  DVVDLSV**PETHEFV 428    NGVVCHNT 437  
Mxe GyrA                   CITGDALVALPEG 13  GLRVTGTANHPLLC 79  PVYSLRV*DTADHAFI 190    NGFVSHNT 199  
Naz-0708 RIR1-1            CLPEDALVHTSKG 13  ATYPRATLNHKQAV 66  QTYDIEV**EEAHCFY 399    DGYLTHNS 408  
Naz-0708 RIR1-2            CLDRTALRIFDQG 13  GRILRMTANHRLSI 73  YSYDFAV**EGIDDND 369    GGIKSHNT 382  
Nfa DnaB                   CLPASTRILRADT 13  GREVEATGNHPFLT 77  DVYDGTV**PGTHNFV 417    QSISVHNS 426  
Nfa Nfa15250               CFPAGTVVSGPSA 13  GKQLSLTGNHPVLT 46  HVFSLTSS**EGWHTA 308    NSLIVSNC 314  
Nfa RIR1                   CFPAGTPVDTIDG 13  KEPIRCTPEHPILV 70  QVYNLHV**EGTHTYT 388    RGAVVHNC 410  
Nosp-CCY9414 DnaE-n        CLSYDTEILTVEY N13 GSTIRATKDHKFMT N76                                       
Npu DnaB                   CLAGDSLVTLVDS 13  GRKIRATGNHKFLT 77  EVFDLTV**PGLHNFV 421    NNIIVHNS 430  
Npu GyrB                   CFIGDTLIPLADG 13  GEEIICTPDHQFML 76  DVYCLTV**PEYHNFA 313    AGVFVHNC 323  
Npu-PCC73102 DnaE-c                                             NVYDIGV**ERDHNFA C27    NGFIASNC C37  
Npu-PCC73102 DnaE-n        CLSYETEILTVEY N13 GSVIRATSDHRFLT N76                                       
Nsp-JS614 DnaB             ALALDTALPTPSG 13  GSRIVADAQHQWLT 69  PVRCVEV*DNTEHLYL 342    SMIPTHNS 353  
Nsp-JS614 TOPRIM           CLAGETKVLTWDG 13  RKELFATDGHRWFV 71  EVYCAEV**EDGHAFT 303    DNILTGNC 313  
Nsp-PCC7120 DnaB           CLTGDSLVTLAPG 13  GCKIRATANHKFLT 77  EVFDLTV**PGLHNFI 421    NNIVVHNS 430  
Nsp-PCC7120 DnaE-c                                              NVYDIGV**RRDHNFF C27    NGLIASNC C37  
Nsp-PCC7120 DnaE-n         CLSYDTEVLTVEY N13 GSIIKATKDHKFMT N76                                       
Nsp-PCC7120 RIR1           CLPEDALVHTAKG 13  ATYPRATLNHRQAV 66  QTYDIEV**DEAHCFY 399    DGYLTHNS 408  
Oli DnaE-c                                                      NVYDIGV**EKDHNFL C27    SGEIASNC C37  
Oli DnaE-n                 CLSYNTEVLTVEY N13 GSVIRATKDHQFMT N76                                       
PP-PhiEL Helicase          AMPLSTRVKVPNG 13  GRTADSHPYHLWKT 68  QETCCIALDNDEKLYV 253    DYIVTHNT 263  
PP-PhiEL ORF11             QQRNSAKVRIVPK 13  GRATDVGTEHLWTL 79  DCTCIEV*DNSEQLYL 304    DFIVTHNT 314  
PP-PhiEL ORF39             AGVLSSKIKIPGG 13  GRYTDVSPDHLWKV 68  ETQCITI*DHPDHLYI 357    DFIVTHNS 367  
PP-PhiEL ORF40             MQPLYAKIKVPGG 13  GRYTDAGLDHLWKV 68  EAQCISV*AHPDRLYI 239    DFIVTHNT 249  
Pfl Fha BIL                CFAAGTMVATPKG 13  SETLEVTPGHPFYV 81  LTYNLTV**DIGHTFY 138    LGTWVHNV 149  
Plut RIR1                  CVTAETLVATDRG 13  GYRLKLTGDHPVYT 69  PVFDLTE**PENHHFI 362    NGIGVHNC 371  
Pma-EXH1 GyrA              CVTGDTLINTDRG 13  GYEIEGSFNHPVLT 78  IVYSIRV*KSDCHSFV 407    NGIVNHNT 416  
Pma-ExH1 DnaE              CLTGDTLITMADG 13  GLEIKATADHKFLT 78  HVYDIEV**EGTHNFI 401    NNIISHNC 410  
Pna RIR1                   CVTADTRLATQHG 13  GYQIKATAWHEFYT 81  PVYDTTQ**PDGNTVI 366    NGLVTGQC 375  
Pnuc DnaB                  AQPLDAKVKTVDG 13  GREAECCDEHLWRV 68  QAQCVSV*SHPSRTYV 343    DYVVTHNT 353  
Posp-JS666 DnaB            AQPLDARVRTRTG 13  GRSTECCAEHLWQV 68  LCQCISV*SHPSKLYI 342    QDVVTHNT 352  
Posp-JS666 RIR1            CVTADTWVMTTAG 13  GPALRLTADHRVRR 70  DVFDVTV**ADIHAFD 372    NGLYVHNC 381  
Pssp-A1-1 Fha              CFAAGTLVATPDG 13  SETLLVTPSHPFYV 81  KTFNLTV**DMGHTFY 138    LRTWVHNT 149  
Psy Fha                    CFAAGTMVSTPDG 13  DESLLVTPGHPFYV 81  KTYNLTV**DVGHTFY 138    LKTWVHNT 149  
Rbr-D9 GyrB                CFTGDTAIKLADG 13  GDVVRCTPDHRFML 80  DTYDITV**DHHHNFL 144    CGVFVHNS 154  
Rce RIR1                   CVTAETWVGTAEG 13  GLELRATADHPVRR 70  EVFDVRI**PGANAFE 369    NGLVVHNC 378  
Rer-SK121 DnaB             ALALDTPLATPSG 13  GTVLVADEQHQWLT 69  PVRCVEV*DNADHMYL 267    SMVPTHNS 278  
Rma DnaB                   CLAGDTLITLADG 13  GRSIRATANHRFLT 76  EVFDLTV**PGPHNFV 420    NDIIAHNS 429  
Rma-DSM4252 DnaB           CLAGDTLITLADG 13  GRSIRATANHRFLT 76  EVFDLTV**PGPHNFV 420    NDIIAHNS 429  
Rma-DSM4252 DnaE           CVAEGTLIVDART 13  GRTIELTAEHPLLT 74  RVYDLAV**PPFANFV 415    QDIVVHNS 424  
Rsp RIR1                   CVTAETWVMTDEG 13  GRHLRLTADHLVRK 70  EVFDVQV**PGVNAFD 364    NGFYVHNC 373  
SaP-SETP12 dpol            CLHRHTQVLTDGG 13  VDGVLMTEDHKILT 62  PVYDLID*VEDGNRFL 287    GFLVAHNC 300  
SaP-SETP3 Helicase         CLKRGTEVIMFDG 13  GESYTVNESHILSL 68  GVDDYFGF/DGDSRFL 338    FTVTHNTS 349  
SaP-SETP3 dpol             CLHRHTQVLTDGG 13  VDGVLMTEDHKILT 62  PVYDLID*VEDGNRFL 287    GFLVAHNC 300  
SaP-SETP5 dpol             CLHRHTQVLTDGG 13  VDGVLMTEDHKILT 62  PVYDLID*VEDGNRFL 287    GFLVAHNC 300  
Sare DnaB                  CLTADTRLIRADT 13  GKHIDATSNHPFLA 78  DVYDATV**LGTHNFI 369    NGIATHNS 377  
Sav RecG Helicase          AQPLDSLVLAPTG 13  GSSVECDDEHLWIV 68  PAQCISV*GHPSHAYV 329    NFTVTHNT 339  
Sel-PC6301 RIR1            CVTADTWVHTGEG 13  GYSLRPTANHRVLK 70  TVYDCTV**PGPARFD 362    NGLVAHNC 371  
Sel-PC7942 DnaE-c                                               PVYDLGV**ATVHNFV C27    NGLVASNC C37  
Sel-PC7942 DnaE-n          CLAADTEVLTVEY N13 GRIIRATADHRFMT N76                                       
Sel-PC7942 RIR1            CVTADTWVHTGEG 13  GYSLRLTANHRVLK 70  TVYDCTV**PGPARFD 362    NGLVAHNC 371  
Sel-PCC6301 DnaE-c                                              PVYDLGV**ATVHNFV C27    NGLVASNC C37  
Sel-PCC6301 DnaE-n         CLAADTEVLTVEY N13 GRIIRATADHRFMT N76                                       
Sep RIR1                   CVTGDTELLTEKG 13  GFKIKSTEWHKYYR 83  DVYDTTQ**EDYHSLI 376    NGIVTGNC 385  
ShP-Sfv-2a-2457T-n Primase ACPLNEPILLADG 13  GRYVDCAGDHLWEV 69                                        
ShP-Sfv-2a-301-n Primase   ACPLNEPILLADG 13  GRYVDCAGDHLWEV 69                                        
ShP-Sfv-5 Primase          ACPLNEPILLADG 13  GRYVDCAGDHLWEV 69  ECLCIMV*DHPRHLYV 333    GYVATHNT 343  
SoP-SO1 dpol               CLHRHTQVLTNGG 13  VDGVLMTEDHKILT 62  PVYDLIDV*EDGNRFL 287    GFLVAHNC 300  
Spl DnaX                   CLTGDALILSDRG 13  QTEIKCTGNHLIRT 66  HVYDIEV**EHNHNFV 130    NGLLVHNC 137  
Sru DnaB                   CLGKGTPVMMYDG 13  GMDYRVNESHILSL 68  VGDYFGFTLDGNGRFL 335    DGTVTHNT 345  
Sru PolBc                  CFDPETEVVTVDG 13  HTDFLVTPNHRFLT 73  VDYDGMIHCLTVADNH 343    KFNWTGQS 359  
Sru RIR1                   CLTGDQRVVTDRG 13  GVEQKVSARHGMPV 71  TVYCPTT*HTEESVFV 364    QGALTFNC 373  
Ssp DnaB                   CISGDSLISLAST 13  GRTIKATANHRFLT 77  EVFDLTV**PGPHNFV 421    NDIIVHNS 430  
Ssp DnaE-c                                                      RIFDIGL**PQDHNFL C27    NGAIAANC C37  
Ssp DnaE-n                 CLSFGTEILTVEY N13 GSVIRATSDHRFLT N76                                       
Ssp DnaX                   CLTGDSQVLTRNG 13  NSTVRCTANHLIRT 73  KVYDLEV**EDNHNFV 422    NGLLVHNC 431  
Ssp GyrB                   CFSGDTLVALTDG 13  GESIICTPDHKFML 80  DVYDIEV**PHTHNFA 426    SGVFVHNS 436  
Ssp-JA2 DnaB               CLAGDTQVMDADR 13  NFSIRATGNHPFLT 80  PVYDIEM**PRHHNFV 133    NGLLVHNS 142  
Ssp-JA2 RIR1               CVTADTWVHTGDG 13  GFSLRLTGNHRVLK 70  PVYDCTV**PGPACFD 361    NGFVVHNC 370  
Ssp-JA3 DnaB               CLAGDTRVRDVDR 13  NFSIRATGNHPFLT 80  PVYDIEM**PRHHNFV 133    NGLLVHNS 142  
Ssp-JA3 RIR1               CVTADTWIHTGDG 13  GFSLRLTGNHRVLK 70  PVYDCTV**PGPSCFD 361    NGLVVHNC 370  
Ssp-PCC7002 DnaE-c                                              PTYDIGL**SQDHNFL C27    QGLIAANC C37  
Ssp-PCC7002 DnaE-n         CLAGGTPVVTVEY N13 GQMIRATPDHRFLT N76                                       
Ssp-PCC7335 RIR1           CLPEDALVHTARG 13  GPVPRATLNHQIAV 66  QTYDIEV**EEAHCFY 401    DGYLTHNS 410  
StP-Twort ORF6             CISMDSMILTTEG 13  GIELVNTYNHPLLV 83  PTFDVCM**PKTHSFI 412    NTIVNHNT 421  
Susp-NBC371 DnaB intein    CLGKGTNVLMYDG 13  GIDYRVNKSHILSL 68  VEYDKV***DDYYGFV 327    DMTVTHNT 345  
Taq-Y51MC23 DnaE           CLPARAKVVDWRT 13  GRVLEATANHPLFT 79  EVFDLTV**EGTHTFI 417    EDVIVHNS 426  
Taq-Y51MC23 RIR1           CFVGSTRIPTEFG 13  GLELTLTPDHLLLT 86  PVYDLTE**PVTHSLI 396    NGIVAHNC 405  
Tcu-DSM43183 RecA          CMSYGTRVTLADG 13  RAQFAATENHLVRT 83  MRRFDIEV*EGAHNYF 356    DGVMVHNS 365  
Tel DnaE-c                                                      AVYDIGL**AADHNFV C25    NGAIAANC C36  
Tel DnaE-n                 CLSGETAVMTVEY N13 GSTICATPDHRFMT N76                                       
Ter DnaB-1                 CAAYDTLVLQKDG 13  GRFVETTITHPFLT 75  QVYDLTV**PETHNFV 1978   NDICLHNT 1987 
Ter DnaB-2                 CLTGESLICLADG 13  GKLIRATANHPFFS 76  EVFDLTV**PGLHNFV 169    NEIVVHNS 178  
Ter DnaE-1                 CLPKGTLIDQPDG 13  GTVIYSGKNHRFLT 72  ECFDLEMEDQSSPYFL 1358   EGVVVHNC 1366 
Ter DnaE-2                 CLSGSTKVIDAAT 13  NRKVCATDDHLFYT 81  EVFDLTI**PETHNFI 420    NDFIVHNC 429  
Ter DnaE-3c                                                     NVYDIGV**TKDHNFV C27    NGLIASNC C37  
Ter DnaE-3n                CLTYETEIMTVEY N13 GTVIRATPEHKFMT N76                                       
Ter GyrB                   CFAGNQKVILADG 13  NETIICTPDHLFML 80  DVYDIEV**PHTHNFA 235    SGVFVHNS 245  
Ter Ndse-1                 CFDSKTEILTEAG 13  HRDFCVTPNHWMYV 72  KVYCVNV**TNHVVFV 326    RAAWCGQC 337  
Ter Ndse-2                 SLTGDQKVLYYIA 13  GKQIKITEDHSLFT 84  YVYDFSV**PNYENFI 420    YNVFAHNT 431  
Ter RIR1-1                 CLPEGALVHTASG 13  DGYFECTPDHKVAV 67  STYDIEV**ASIHEFV 386    QGILVSNS 395  
Ter RIR1-2                 CHSGDTLVSTDQG 13  GMQMRCTGDHQHFT 75  VVYDLHV**PLTNSFI 365    NGCLTHNC 374  
Ter RIR1-3                 CVSGDTLLITRDS 13  GSYLDVTEYHRFFV 68  GLHDTYC**FEEPEFH 312    GNALTGNC 324  
Ter RIR1-4                 CLDKTALRIFNQG 13  GRKLRMTPNHRMSV 73  YSYDFAI**EGINDND 369    GALKSHNT 382  
Ter Snf2                   CVLHDTEIYVNGM 13  GSSITITCRHKLFI 93  WVYDFEV**SKYHNFV 461    NNIICHNT 470  
Ter ThyX                   CLSGNTKVRFRYS 13  GKEIRATLEHQFWT 105 ITYDLEV*EHPEHNFI 290    NGLVVHNS 299  
Tfus RecA-1                CLTADTYVWTDRG 13  GRQVTVTRNHPLRV 86  PTFDLMV**PRTHSFL 414    NGILSHNT 423  
Tfus RecA-2                CMHYDTLVTLADG 13  GAQFTATPNHLIRT 83  RKFDIEV**EGNHNYF 349    DGVMVHNS 358  
Tfus Tfu2914               CVDEETEILTTDG 13  THSSLTTPQHRWPV 74  RVWCVRT**PNATWLA 330    TVYFTGNS 342  
Thsp-K90 RIR1              CVTADTWIHTSIG 13  GYQLKLTADHRLRR 70  EVFDVSV**PDVHAFD 370    NGLCAHNC 379  
Tth-DSM571 RIR1            CVTGDTWVMTTEG 13  GYSIRLTDDHKILK 70  DVYDVQV**PGINSFD 366    NGIIIHNC 375  
Tth-HB27 DnaE-1            CLAEGSLVLDAAT 13  GRTLVLTPDHPLLT 74  RTFDLRV**PPFANFV 415    EDLVVHNS 424  
Tth-HB27 DnaE-2            CLPARARVVDWCT 13  GRVLEATANHPVYT 79  EVFDLTV**EGTHTFV 415    EDVIVHNS 424  
Tth-HB27 RIR1-1            CLHPDTLVHTDRG 13  GLEVQGTLNHKLKV 76  LTLDLSV**EGNHTYL 430    NGLVSHNT 439  
Tth-HB27 RIR1-2            CFVGSTRIPTERG 13  GLEVTLTPDHLLLT 86  PVYDLTE**PVTHSLI 399    NGLVAHNC 408  
Tth-HB8 DnaE-1             CLAEGSLVLDAAT 13  GRTLVLTPDHPLLT 74  RTFDLRV**PPFANFV 415    EDLVVHNS 424  
Tth-HB8 DnaE-2             CLPARARVVDWCT 13  GRVLEATANHPVYT 79  EVFDLTV**EGTHTFV 415    EDVIVHNS 424  
Tth-HB8 RIR1-1             CLHPDTLVHTDRG 13  GLEVQGTLNHKLKV 76  ILTLDLS**EGNHTYL 417    NGLVSHNT 439  
Tth-HB8 RIR1-2             CFVGSTRIPTERG 13  GLEVTLTPDHLLLT 86  PVYDLTE**PVTHSLI 399    NGLVAHNC 408  
Tvu DnaE-c                                                      AVYDIGL**AGDHNFL C26    NGAIAANC C36  
Tvu DnaE-n                 CLSGETAVMTVEY N13 GSTICATPDHRFMT N76                                       
Tye RNR-1                  CYSSDTQVLTYSG 13  KLDLLVTPNHRMLV 73  KVYCVEV**PNHTLYV 366    KACWCGNS 378  
Tye RNR-2                  CLSEDTEILTLDG 13  SQSQLISPNHRVVR 73  GIIWSV***NTENETV 303    QVFITGNT 318  
Archaea
Intein                     Block A           Block B            Block F                 Block G       
Ape APE0745                SLPPWEPIVVRRG 13  GRSIDLTGSHSIYR 92  FVYDLSV**EGDENFF 458    GWILVHNS 449  
Cme-boo Pol-II             CFYGETKIEIFDG 13  RTVDTNGGMHLRRI 66  RVYCLTVA**EDHTLV 157    NGVFTGQC 166  
Fac-Fer1 RIR1              CVTGDTKIFTSEG 13  GFEIKVTGDHKIYS 74  DVYDLV**EPSTHSFV 360    NGIVVHNC 367  
Fac-Fer1 SufB (Fac Pps1)   CLPEDELISQGDK 13  GNAFRATSEHPVLS 70  EVYDDIV**YNMEVET 343    KGFAVHNC 357  
Fac-TypeI RIR1             CVTGDTKIFTSEG 13  GFEIKVTGDHKIYS 74  DVYDLV**EPSTHSFV 360    NGIVVHNC 367  
Fac-typeI SufB (Fac Pps1)  CLPEDELISQGDK 13  GNAFRATSEHPVLS 70  EVYDDIV**YNMEVET 343    KGFAVHNC 357  
Hma CDC21                  CVHGDTRVTLADG 13  GRELDVTPSHPLFV 91  WVYDLEI**EGTHNYL 469    NGVVSHNS 478  
Hma Pol-II                 CFHPDTRLWYEDE 13  DRTLRVTPDHTMLR 96  HVYCLTV**ADTHRVA 172    EGTYVGQC 181  
Hma PolB                   CFTPDTDVLTPEG 13  KMDFRVTPNHRMLV 74  GVYCVTV**ADNHTLM 397    KFQFVGQS 410  
Hma TopA                   CLTADSDVLVRSE 13  RGAVTVTDDHPMYI 98  PVYDLTV*SENAPNFA 528    GGAVVHNS 538  
Hmu-DSM12286 MCM           CLSGDTHVTLGDG 13  GRELDITPSHPLFV 91  WVYDLEV**GGTHNYV 166    NGVVSHNS 175  
Hmu-DSM12286 PolB          CFTPDTEVVTPEG 13  KIDFRVTPNHRMLV 74  GVHCVTVE**DNHTLL 399    KFQFVGQS 412  
Hsa-R1 MCM                 CVRGDTTVALADG 13  GHRLTVTPSHPLFV 91  WVYDLEV**EGTHSYL 174    DGVVSHNS 183  
Hsp-NRC1 CDC21             CVRGDTTVALADG 13  GHRLTVTPSHPLFV 91  WVYDLEV**EGTHSYL 174    DGVVSHNS 183  
Hsp-NRC1 Pol-II            CFHPETNVWFRDE 13  GRELTVTPDHSMRR 100 HTYSLTV***AETNTL 186    NGLFTGQC 196  
Hut MCM-2                  CVTGDTLVQAGDG 13  GEEVTVTPDHPFFI 93  SVYDLTV**EGTHNFL 178    NGMVVHNS 187  
Hut-DSM12940 MCM-1         CLDADTNVQLADG 13  GKELDVTPSHPLFV 91  WVYDLEV**EGTHSYV 520    NGVVSHNS 529  
Hvo PolB                   SVTGDRPVVVRDP 13  FGESTTTRDHSYVV 107 YVYDLSV**EENENFV 427    GGIVLHNT 438  
Hwa GyrB                   CFSGDTEIALASG 13  GEVIRCTPDHEFML 80  DVYDLEV**PVTHNFA 206    SGVFVHNS 216  
Hwa MCM-1                  CVSGETDIALVEG 13  GRSVTVTPSHPVFV 91  WVYDLEV**EGTHAYL 201    NGVLSHNS 210  
Hwa MCM-2                  CVTGETRIHTTDG 13  GKQLEASVNTPVLT 90  EVFDLTV**PNTQNFI 513    GGIVTHNT 522  
Hwa MCM-3                  CVTGETLVSLADG 13  GSEVTTTADHPFII 97  DVYDLTV**SGTHNFV 204    NGMIVHNS 212  
Hwa MCM-4                  SYHPRSEVLLADG 13  GRSVLVTPEHPMFI 97  WVYDITV**EPTNTFI 574    SGVVLHNS 573  
Hwa Pol-II-1               CFHPETKIWFRDT 13  GREITITPDHEMHI 102 YTYCLTV**SETHSLI 521    NDLSQKQC 530  
Hwa Pol-II-2               SVAADSRLVAVSP 13  GRSLDITDEHSLFR 100 VDYDGYL**YDLQVGG 531    NWLYAHNS 545  
Hwa PolB-1                 CLPSDARIQMADG 13  GTSLRSSGDHRIMI 71  TTYDIET***TTHNFV 425    DDCLVHNC 435  
Hwa PolB-2                 CFTPDTNVLTPNG 13  EIDFRVTPNHRMLV 74  GVYCVTV**ADNQTLL 346    TFQWTGNS 359  
Hwa PolB-3                 SVTGDRPVVVRDP 13  YGESTTTRDHSYIT 108 YVYDLSV**ATNQNFV 421    GGLVLHNT 432  
Hwa RCF                    CVTGSTPILTNKG 13  GATLTVTPEHKLLI 82  RVYDLTV**PGVRNYV 313    IPTVMHNT 324  
Hwa RIR1-1                 CLTADSTVMLKEK 13  GCSIRGTPNHRLMV 72  TVYDITV**ADNHEYV 400    DGIISHNS 409  
Hwa RIR1-2                 CVEENSLVSTDEG 13  GFNIAATPNHRFRT 78  YTKDISV**PSNNTYI 430    DGFVTHNT 439  
Hwa Top6B                  SLTPTQTLLIRRD 13  GRTLEITGNHSLFS 95  YVYDISV**PGASGHD 477    GAICVKNS 493  
Hwa rPol A''               SIEADESIVIRRD 13  GRSIRATKAHSFVT 100 YVYDLSV**SGLETFT 205    EGVVTHNT 215  
Maeo Pol-II                CFPPNTTILVNIN 13  GRSFETTPDHPVMV 99  FVYSLNA**KKYHNVV 493    SNIQMHNC 503  
Maeo RFC                   CLTENAKIYTADE 13  GRTIEATEDHKFLT 78  DVYDITC**HNDHSFI 609    NGFVSHNC 618  
Maeo RNR                   SLVKDELIFIKDN 13  GTTVSITEDHSLFN 103 YVYDLSV**EDNENFI 446    TGILCHNT 456  
Maeo-N3 Helicase           CLNANTEILQESG 13  GLKITTTPNHLFLV 72  YAYDIELPDDGTNDHY 516    NGFIVHNS 525  
Maeo-N3 RtcB               CLSTDSNILTDDG 13  GRILKGSADHPILL 77  KLYDVSI*LHQSHNFI 477    NGVVVHNC 486  
Maeo-N3 UDP GD             CFHPDEILFVDFG 13  GREIKITKDHPVVV 86  EVYSVET**DNNLLIS 455    YGLLIHNC 464  
Mein-ME PEP                CIEGDAKILTDRG 13  KDTIKITPDHKFPI 83  EVYNLTV/DADNEFDHNYI 348 TPIVVFNC 362  
Mein-ME RFC                SVSKDTPILVKIN 13  GGVLELTGNHSIML 92  FVYDVSV**PNNEMFF 421    IPILLHNS 432  
Memar MCM2                 CYDDETEVLTESG 13  QVDLAVTPNHRMYV 72  TIYCLEV**PNHTLYV 347    IPVWCGNS 359  
Memar Pol-II               CFAGDTEITVSDG 13  GRVLTVTPDHAMLV 99  RVYCLTV**AENHTLV 157    NGIFCGQC 166  
Mesp-FS406 PolB-1          CHPKGTKVVVKGR 13  VNGLKCTPNHKIPL 64  KVYDLTL**EGRPYYF 351    NGILTHNS 360  
Mesp-FS406 PolB-2          SILPDEYLTVIEE 13  GRTIKVTEDHSLFK 100 YVYDLSV**EKYENFL 469    NNIYAHNS 478  
Mesp-FS406 PolB-3          SILPNQWMPIVED 13  GREIEVTMGHSLFK 100 YVYDLSV**EDNENFL 480    NNIYAHNS 489  
Mesp-FS406-22 LHR          CVSPDTKILTNNG 13  GFEIKCTKEHRFLT 72  IKLKKV***YGIINSK 515    NNFISKNS 529  
Mfe-AG86 Pol-1             SILPDEYLVVIED 13  GRSIKVTKGHGLFK 100 YVYDLSV**EEDENFL 468    NNIYAHNS 477  
Mfe-AG86 Pol-2             SVTENTEIIVKIN 13  TWYVDVTEDHSLIG 92  YVYDIEV**EDTHRFF 378    NGILVHNT 387  
Mhu Pol-II                 CFHGDTLIEIYAD 13  GKNLLVTPDHAMLV 99  RVYCLTV**DRDHNVV 157    NGIFTGQC 166  
Mja GF-6P                  CLHPDTYVILPDG 13  FSELITTGEHKLFV 72  YVYDLEV**EDYHNFI 491    NLIINHNS 500  
Mja Helicase               CLNANTEILQESG 13  GLEITTTPNHIFLV 72  YAYDIEL*PDDGSNSH 490    NGFIVHNS 502  
Mja Hyp-1                  CVPPDTLLILENG 13  PEEIILTPEHPVYA 70  FVYNLEV**EDDSSYV 384    VSGTLHNC 393  
Mja IF2                    CLMPHEKVLTEYG 13  WHSITTTPEHPFLT 90  YVYDLTT***ETHNFI 538    NGIVVHNT 547  
Mja KlbA                   ALAYDEPIYLSDG 13  RREITLTHDHPVYI 101 HIYDLTV**EDNHTYI 157    EGFAVSNC 169  
Mja PEP                    CIEGDAKILTDRG 13  KDTIKITPDHKFPV 83  EVYNITV/NEFNHNYV 399    TPIVVFNC 413  
Mja Pol-1                  CHPKGTKVVVKGK 13  VNGLKCTPNHKIPL 64  EVYDLTL**EGRPYYF 361    NGILTHNS 370  
Mja Pol-2                  SILPDEYLTIIEE 13  GRTIKVTRGHSLFK 100 YVYDLSV**EDNENFL 468    NNIYAHNS 477  
Mja RFC-1                  CLTGDTKVIVNGE 13  GRELKVTTYHPLLI 85  TIYDLHV**PRYHNFI 538    LPTILHNT 549  
Mja RFC-2                  SVSKDTPILVKID 13  GGYIELTGNHSIMM 91  FVYDVSV**PNNEMFF 426    VPILLHNS 437  
Mja RFC-3                  CLTGDAKITLPDE 13  GREIEATGDHKFLT 78  DVYDITC**HKDPSFI 535    NGFVSHNC 544  
Mja RNR-1                  SLGRDELIFIKEG 13  GTSIIVTEDHSLFN 103 YVYDLSV**EDNENFI 444    TGILCHNT 454  
Mja RNR-2                  SLPYDEKILIFEN 13  GKKVRVTGDHSVFT 101 YVYDISV**EGTENFI 523    GFICLHNT 534  
Mja RtcB (Mja Hyp-2)       CLTSNSKILTDDG 13  GRVLEGSKDHPVLT 76  KLYDVGI*VSKEHNFI 480    NSIVVHNC 489  
Mja TFIIB                  SVDYNEPIIIKEN 13  NKKVRVTRSHSVFT 97  YAYDLTV**PNAENFV 325    GGFVLHNT 336  
Mja UDP GD                 CFHPDEVLFIDRG 13  GREIKITKDHPVVI 81  YVYSVET**ENSLLIT 446    YGILIHNC 455  
Mja r-Gyr                  CLTPDTYVVLGDG 13  NYELKATPDHCLLV 77  YVYDLSI**KHNQNFI 486    NGVISHNC 495  
Mja rPol A'                CVDGDTTVLLDGK 13  GREIIATEDHPFYT 78  YVYDITT*ISETHNFI 444    NGFLTGNC 453  
Mja rPol A''               SLPYEEKIIIKEG 13  GREITATPYHSFVI 98  YVYDISV**EGLETFT 462    DGVLTHNT 472  
Mka CDC48                  SIPGDEVVWAKVD 13  GREVIVTEDHSVFT 82  YVYDVV*EVKLGHNFV 385    QGVLLHNS 395  
Mka EF2                    CVAPETKICLADG 13  GRSIRTTPEHKFLV 96  YVYDFTV**EEHHNFA 514    EGFVVHNT 523  
Mka RFC                    SVSADTPILVRRG 13  DGTIELTGNHAVMV 89  YVYDVSV**PGNEMFF 295    VPVLLHNS 306  
Mka RtcB                   CLAPGTKILTEHG 13  GLTIEGSEDHPVLT 80  RFYDIGV*CHGAHNFI 474    DGVVVHNC 483  
Mka VatB                   CFAPGTRVITASG 13  GAELVVSEDHKFLV 96  YLYDVTVV**PDHTLV 508    NGIITSNC 518  
Mth RIR1                   CVSGDTIVMTSGG 13  GHCLRLTHDHRVLV 74  DVTDATV**YGASAFT 126    NGFIVHNC 135  
Mvu-M7 Helicase            CLNAKTEILQENG 13  GLEITTTPNHIFLV 72  YVYDIELPNDGSNDHY 264    NGFVVHNS 275  
Mvu-M7 Pol-1               CHPRGTKVIVKNN 13  VNGLKSTPNHKIPV 64  YVYDLTL**EGRPYYF 231    NGILTHNS 240  
Mvu-M7 Pol-2               SILPDEYLTVIED 13  GRTIRVTEGHSLFK 97  YVYDLSV**EDNENFL 465    NNIYAHNS 474  
Mvu-M7 Pol-3               SVVKDAKVIIKED 13  DRYVDITEDHSIIG 90  YVYDIEV**ENTHRFF 150    NGILVHNT 159  
Mvu-M7 UDP GD              CFHPDEVLFIDRG 13  GREIKITKDHPVVI 81  YVYSVETENSLLIT 446      YGILIHNC 455  
Neq Pol-c                                                       ILYDLST**ESGKFYV C23    NGLVLHNT C31  
Neq Pol-n                  SIMDTEIEVIENG N13 INGITLSANHLVLS N83                                       
Nma-ATCC43099 MCM          CVTGDTLVHTGDG 13  GEQLTTTADHPFFV 93  RVYDLTV**EGTHNFV 634    NGMVVHNS 643  
Nma-ATCC43099 PolB-1       CLPADSDVLMADG 13  GTSLRSSADHRIMV 71  TTYDIE***TTTHNFI 443    EGCLVHNC 452  
Nma-ATCC43099 PolB-2       CFTPDTEVLTPDG 13  KIDFRVTPNHRMLV 74  GVYCVTV**EDNHTLL 395    KFQFVGQS 408  
Nph CDC21                  CVDGDTSVTLASG 13  GRELEVTPSHPLFV 90  WVYDLEV**ESTHSYL 331    NDVVSHNS 340  
Nph PolB-1                 CFSGDTDVATPDG 13  THDFKVTENHRFLL 74  EDHDGDVHCITAEDNH 386    HLQWVGQS 402  
Nph PolB-2                 CFTPDTEVLTPDG 13  EIDFRVTPNHRMLV 74  GVYCVTV**EDNHTLL 397    KFQFVGQS 410  
Nph rPol A''               SIPADEQVVVRRN 13  GRSIRATKAHSFVT 98  YVYDVSV**EGLETFT 483    DGVVTHNT 493  
Pab CDC21-1                CVDYETEVVLGNG 13  GKRIRVTPTHPFFV 98  WVYDLQV**PGYHNFL 156    NGIFVHNS 165  
Pab CDC21-2                CVAPETLIITENG 13  GKQITVTPETKLLT 92  HVYDLTV**EGSHSFI 260    NGFVVHNT 269  
Pab IF2                    CLLPDEKVVVPSV 13  WHGVTVTPEHPFLT 91  YVYDLTT***ETHNFI 386    NGILVHNT 395  
Pab KlbA                   ALYYFSEIQLPNG 13  GKELVLTQDHPVFV 100 YLYDLTV**DINHNYV 188    NGIVVSNC 197  
Pab Lon                    CFSGEETVVIREN 13  DYWFALTPDHKVYT 98  VTYNLTT***EKGNLL 325    NGLFVKNS 334  
Pab Moaa                   CFPPTEEAVFKFG 13  GRTIRTTPEHKFFV 97  YVYDLEV*ENEGHSFV 446    DGILVSNC 456  
Pab Pol-II                 CFPGDTRILVQID 13  GRSFETTVDHPVLV 97  FVFSLNA**KKYHNVI 176    ENIVTHQC 186  
Pab RFC-1                  CLTGDAKVIANGE 13  GRELKVTPYHPLLV 85  VIYDLHV*PKYHNFIG 490    LPTVLHNT 500  
Pab RFC-2                  CVTGDTKVYTPDE 13  GRIIEATGDHMFLT 78  DVYDVTC**ARDHSFI 600    NGLVSHNC 609  
Pab RIR1-1                 CIDGNAKIIFENE 13  GTKILTSPWHPFFV 103 TFYDLTV**DKYQNYL 388    GMIFVHNT 400  
Pab RIR1-2                 CFTGDTRILTEKG 13  GYELKVTGDHKFLV 71  HVYDLQV**EDVHLLT 430    NGIYTSNS 439  
Pab RIR1-3                 CVVGETRILTPEG 13  DKQVKYETVHGNAV 69  LVYDFTV**PEHHMYI 374    NGFMSHNC 383  
Pab RtcB (Pab Hyp-2)       CLAPGSKVLTEHG 13  GRIIEGSEDHPVLT 80  KFYDIGV*YHEAHNFI 428    NGIVVHNC 437  
Pab VMA                    CVDGDTLVLTKEF 13  GRKIKVTPIHKLFT 93  EVYDVTT***ETHNFI 420    MPTLLHNT 430  
Par RIR1                   CVTGDTRVLTRDG 13  GFEIKATGDHKLLV 103 VVYDFGV**PDYHRYI 384    EGIVSHNC 393  
Pfu CDC21                  CVAPDSLVVVNDK 13  GKEITVTPETKLLT 94  YVYDLTV**EGSHSFI 359    NGFVVHNT 368  
Pfu IF2                    CLLPEEKVVLPEI 13  WYSVTVTPEHPFLT 91  YVYDVTT***ETHNFV 379    NGILVHNT 388  
Pfu KlbA                   ALYDFSVIQLSNG 13  GNEIILTRNHPLAF 102 YVYDLTV**EDDHNYV 514    NGILVSNC 523  
Pfu Lon                    CFSGEEVILIEKD 13  DYWLALTPEHKVYT 98  VTYNVTT***ETGNLL 393    NGLFVKNS 402  
Pfu RFC                    CLTGDTKVIANGQ 13  GRELKVTPYHPLLV 85  IIYDLHV**PGYHNFI 515    MPTVVHNT 526  
Pfu RIR1-1                 CIDGKAKIIFENE 13  GTKILTSPWHPFFV 103 TFYDLTV**ENYQNYL 443    GMIFVHNT 455  
Pfu RIR1-2                 CVVGDTRILTPEG 13  EEKVEYETVHGRVL 69  IVYDFTV**PNYHMYI 374    NGFMSHNC 383  
Pfu RtcB (Pfu Hyp-2)       CLAPGTKVLTEHG 13  GTLIEGSEDHPVLT 80  RFYDIGV*YHEAHNFI 473    NGIVVHNC 482  
Pfu TopA                   CLHPDTLILTSQG 13  GTELYLTADHPVLV 72  KVYDLVV**ENYHNFI 365    NGIAVHNC 374  
Pfu VMA                    CVDGDTLILTKEF 13  GRKIKVTPIHKLFT 93  EVYDITT***ETHNFV 415    MPTLLHNT 426  
Pho CDC21-1                CVDYDTEVLLGDG 13  GREIRVTPTHPFFT 98  WVYDLQV**PEHHNFI 160    NGIFVHNS 169  
Pho CDC21-2                CVAPDTLINTDNG 13  GRSIALTRETKLLT 91  YVYDLTV**EGSHNFV 152    NGFIVHNT 261  
Pho IF2                    CLLPEERVILPDY 13  WHSVAVTPEHPFLT 91  YVYDVTT***ETHNFI 436    NGILVHNT 445  
Pho KlbA                   ALYDFSIIQLSNG 13  GNEVILTRSHPLFA 101 YVYDLTV**EDDHNYV 512    NGILVSNC 520  
Pho LHR                    CVSGDSKVLTEKG 13  GFEVKCTREHRFLT 71  VYLDVA***YGIINSE 462    NGFVSKNS 476  
Pho Lon                    CFSGEEVIIVEKG 13  DYWLAVTPDHKVFT 98  VTYNVTT***ETGNLL 466    NGLFVKNS 475  
Pho Pol I                  SILPDEWLPIVEN 13  GRRIKITSGHSLFS 100 YVYDLSV**EDNENFL 450    GLLYAHNS 461  
Pho Pol-II                 CFPGDTRILVQIN 13  GSSFETTVDHPVLV 97  FVFSLNA**KKYHTVI 157    ENIVTHQC 167  
Pho RFC                    CLTGDTKVIANGQ 13  GRELKVTPYHPLLV 85  IIYDLHV**PGYHNFI 515    MPTVVHNT 526  
Pho RIR1                   CVVGDTRILTPEG 13  GYEIIATLDHKIMT 113 IVYDLTV**PGIHSYI 377    NGFISHNC 386  
Pho RadA                   CFARDTEVYYEND 13  GYSLKVTPSHPVLL 97  WVYDLVI**PETHNFI 163    NGLVLHNT 173  
Pho RtcB (Pho Hyp-2)       CLAPGTRVLTEHG 13  GKVIEGSEDHPVLT 80  KFYDIGV*YHSAHNFI 382    NGIVVHNC 391  
Pho VMA                    CVDGDTLVLTKEF 13  GRKIKVTPIHRLFT 93  EVYDVTT***ETHNFV 366    MPTLLHNT 377  
Pho r-Gyr                  CVTPDTLVSLSDG 13  GHEIKATPDHGLLV 75  KLYDFTT***TTENFI 402    NGIVSHNC 411  
Psp-GBD Pol                SILPEEWVPLIKN 13  GRKITITEGHSLFV 100 YVYDLSV**DEDENFL 527    GFLYAHNS 538  
Pto VMA                    CVTGDTPVLLADG 13  GREVKVTPVHKLFR 92  DVYDVTT*PDFGSNFV 323    GAILLHNT 334  
Smar 1471                  SVSYDTPVLIRDP 13  GGKLEATGSHSVFV 91  YVYDISV*PITEAFFG 471    IPILLHNT 481  
Smar MCM2                  SYHKDFKIMLADG 13  GAEIIVTPEHPVLI 97  WVYDITI**EPYHLFV 342    DGLILHNT 351  
Tac-ATCC25905 VMA          CVSGDTPVLLDAG 13  GREVRVTPVHKLFV 92  DVYDLMV*PDYGYNFI 163    GLIVLHNT 174  
Tac-DSM1728 VMA            CVSGDTPVLLDAG 13  GREVRVTPVHKLFV 93  DVYDLMV*PDYGYNFI 164    GLIVLHNT 175  
Tag Pol-1 (Tsp-TY Pol-1)   CHPADTKVIVKGK 13  INGLKCTPNHKVPV 64  EVYDLTL**EGNPYYF 352    NGILTHNS 361  
Tag Pol-2 (Tsp-TY Pol-2)   SILPNEWLPIIEN 13  GRKIHITRGHSLFT 100 YVYDLSV**EDNENFL 528    GLLYAHNS 539  
Tag Pol-3 (Tsp-TY Pol-3)   SVTGDTEIIVKRN 13  SWYIDVTEDHSLIV 92  YVYDIEV**EGTHRFF 149    NGILVHNT 158  
Tba Pol-II                 CFPGDTRILVQLN 13  GRSFETTVDHPVLV 97  WVYSLSVA**KYHTVI 466    DNITTSNC 476  
Tfu Pol-1                  CHPADTKVIVKGK 13  INGLKCTPNHKLPV 64  KVYDLTL**EGTPYYF 352    NGILTHNS 361  
Tfu Pol-2                  SVTGDTEVTIRRN 13  SWYLDVTEDHSLIG 92  YVYDIEV**EGTHRFF 381    NGILVHNT 390  
Thy Pol-1                  SLLPEEWIPLVEN 13  GRRITVTEGHSLFA 100 YVYDLSV**EEDENFL 527    GLLYAHNS 538  
Thy Pol-2                  SVTGETEIIIKRN 13  SWYLDVTEDHSLIG 92  YVYDIEV**EGTHRFF 381    NGILVHNT 390  
Tko CDC21-1                CVAPDSIIKTNLG 13  GLSITVTPETKLLT 85  YVYDLTV**EGSHSFI 132    NGFVVHNT 141  
Tko CDC21-2                SYHHDFELLLADG 13  GREITVTPEHPVMV 97  WVYDVTV**EPHHLFV 327    HGLVLHNT 336  
Tko Helicase               CMHPDTYVVTKSG 13  TVPVKITPEHMVWV 69  DVYNLEV**EGDESYS 396    VGFIVHNS 404  
Tko IF2                    CLLPDEKVILPEH 13  WHSVSVTPEHPFLT 91  YVYDVTT***ETHNFV 538    NGILVHNT 547  
Tko KlbA                   ALYDFSVIQLSNG 13  GNEVILTKTHPFFV 101 YLYDLTV**DEDHNYV 515    NGILLSNC 524  
Tko LHR                    CVSGDSKILTGKG 13  GFEIKATKEHKFLT 71  AYIDVA***YGIINSE 512    EGFISKNS 526  
Tko Pol-1 (Pko Pol-1)      CHPADTKVVVKGK 13  INGLKCTPNHKLPV 64  KVYDLTL**EGTPYYF 352    NGILTHNS 361  
Tko Pol-2 (Pko Pol-2)      SILPEEWLPVLEE 13  GRRIKITSGHSLFS 100 YVYDLSV**EDNENFL 526    GLVYAHNS 537  
Tko Pol-II                 CFPGDTRILVQIN 13  GRSFETTVDHPVLV 97  FVFSLNA**KKYHNVI 465    ESIVTHQC 475  
Tko RFC                    CLTGDAKVIANGR 13  GRELKVTPYHPLLV 85  VIYDLHV**PGYHNFI 530    MPTVVHNT 541  
Tko RIR1-1                 CIDGNAKIIFEND 13  GTRVLTSPWHPFFV 103 TFYDLTV**ERYQNYL 443    GMVFVHNT 455  
Tko RIR1-2                 CVVGDTRVLTPEG 13  EEEVKYETVHGKAL 69  IVYDFTV**PEHHSYI 361    NGFMSHNC 383  
Tko RadA                   CFAKDTKVYYEND 13  GYLLRITLLHPVLV 97  WVYDLVI**PETHNFI 473    NGLVLHNT 483  
Tko TopA                   CLHPDSLIPTPQG 13  RTELYLTADHPVLV 72  KVYDLVV**DQYHNFI 503    NGVVVHNC 512  
Tko r-Gyr                  CVTPDTLVSLADG 13  GHEIKATPDHGLLV 75  KLYDFTT***TTENFL 481    NGAVSHNC 490  
Tli Pol-1                  SILPNEWLPIIEN 13  GRKINITAGHSLFT 100 YVYDLSV**EDNENFL 528    GLLYAHNS 539  
Tli Pol-2                  SVSGESEIIIRQN 13  SWYIDVTEDHSLIG 92  YVYDIEV**EETHRFF 382    NNILVHNT 391  
Tma Pol                    SLLPEEWIPVVEN 13  GRKITVTKGHSLFA 100 YVYDLSV**EEDENFL 527    GFLYAHNS 538  
Ton-NA1 LHR                CVPGHSKIFTAEG 13  GFEVEATLGHKFLT 72  VFIKEA***YGILNSE 510    NGFVSKNS 524  
Ton-NA1 Pol                SILPDEWVPLLID 13  GRKIKVTEGHSLFT 98  YVYDLSV**EENENFL 525    GMIYAHNS 536  
Tpe Pol                    SVTGDSEVIIRRN 13  SWYLDVTEDHSLIG 93  YVYDIEV**EGTHRFF 382    NGILVHNT 391  
Tsi-MM739 Lon              CFSGKESIIIEKD 13  DYWLTVTPEHKVYT 98  VTYNVTT***ETGNLL 466    NGLFVKNS 475  
Tsi-MM739 Pol-1            SILPNEWLPIIEN 13  GRKITVTGGHSLFT 100 YVYDLSV**EGNENFL 528    GLLYAHNS 539  
Tsi-MM739 Pol-2            SVTSDTEIIVKRN 13  SWYIDVTEDHSLIV 92  YVYDIEV**EETHRFF 149    NGILVHNT 158  
Tsi-MM739 RFC              SVSKDTPILVRIN 13  GGKLELTGNHSVMV 92  FVYDVSV**PGNEMFF 426    IPVLLHNS 437  
Tsp AM4 RtcB               CLAPGSKVLTEHG 13  GKVIEGSEDHPVLT 80  KFYDIGV*YHRAHNFI 473    NGVVVHNC 482  
Tsp-AM4 LHR                CVPGHSKIITSRG 13  GFEVEATREHKFLT 72  VFIADA***YGILNSK 513    NGFVSKNS 527  
Tsp-AM4 Lon                CFSGNESVVIREN 13  DYWLALTPDHRVYT 98  VTYNLTT***ERGNLV 466    NGLFVKNS 475  
Tsp-AM4 RIR1               CIDGNAKILFENE 13  GTRILTSPWHPFFV 103 TFYDLTV**ENYQNYL 443    GMVFVHNT 455  
Tsp-GE8 Pol-1              SILPDEWLPLLVN 13  GRNIKVTEGHSLFA 98  YVYDLSV**EENENFL 525    GMLYAHNS 536  
Tsp-GE8 Pol-2              SVAGNTEVIIRRN 13  SWYLDVTEDHSLIG 92  YVYDIEV**EGTHRFF 381    NGILVHNT 390  
Tsp-GT Pol-1               SLLPEEWIPLVEN 13  GRRITVTEGHSLFA 100 YVYDLSV**EEDENFL 527    GLLYAHNS 538  
Tsp-GT Pol-2               SVTGETEIIIKRN 13  SWYLDVTEDHSLIG 92  YVYDIEV**EGTHRFF 381    NGILVHNT 390  
Tsp-OGL-20P Pol            SLLPEEWVPVIVG 13  GRRIRVTTGHSLFA 100 YVYDLSV**EEDENFL 527    GLLYAHNS 538  
Tthi Pol                   SLLPEEWVPVIVG 13  GRRIRVTTGHSLFA 100 YVYDLSV**EEDENFL 527    GLLYAHNS 538  
Tvo VMA                    CVSGETPVYLADG 13  GRSVSVTPVHKLFV 95  DVYDLSV*PEYGRNFI 176    GLLVLHNT 187  
Tzi Pol                    SILPDEWIPLLIN 13  GRKIKVTAGHSLFT 98  YVYDLSV**EENENFL 523    GMLYAHNS 533  
Unc-ERS PFL                CFTGNTEISTDRG 13  SDAISCTLNHEFFV 72  KVYNLEI*DNPTHSYN 436    NLISVSNC 435  
Unc-ERS RIR1               CVTADTWVTTAEG 13  GFELRLTADHPVMK 70  KVYDVKI**PGINAFN 299    NGFVVHNC 308  
Unc-ERS RNR                SLPGDEKILIKSG 13  GKKVRVTAGHNFFC 102 ETYDIAT*DTSTQNFI 580    GFLFVHNT 591  
Unc-MetRFS MCM2            SYHPLTEILLADG 13  DREIIVTPEHPVFI 94  YVYDVTV**EPYHCFV 159    QGVILHNS 168  
---
CONSENSUS LINE KEY:
| | |
| --- | --- |
| h | hydrophobic residues (G,V,L,I,A,M) |
| a | acidic residues (D,E) |
| r | aromatic residues (F,Y,W) |
| p | polar residues (S,T,C) |
| / | to align block, 1 or more AA not shown |
| - | motif absent |
| . | non-conserved residue |
| * | gap introduced into Block F |
| underlined residues | conserved in almost all inteins |
| capital letters | single letter amino acid code |